There is all this talk about Amazon this… and Amazon that…
But, what about eBay?
I know many of you started in eBay… and perhaps you are still there. I've sold on eBay for years – and the one thing I absolutely hated was dealing with customer fulfillment.
Did you know you can ship everything to Amazon and they will fulfill your orders for you?! Pretty cool, huh?
eBay is also a great tool to use when conducting research to learn what is selling.
Download this free report where we discuss 5 Keys for Using eBay in Q4.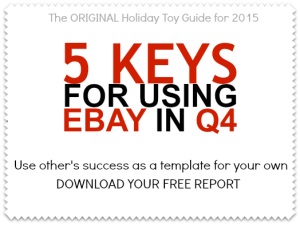 5 Keys for Using eBay in Q4:
http://holidaytoyguide.com/ff/wp-content/uploads/2015/09/5keystouseebay2015.pdf